Arthroscopy Simulator
Insightmist Virtual Reality Arthroscopy Simulator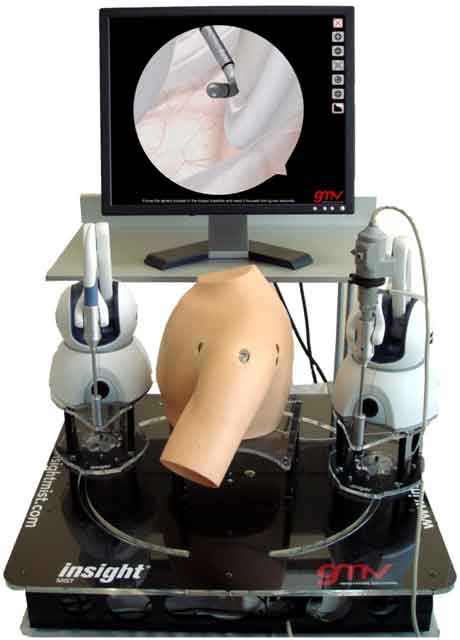 Virtual Reality Arthroscopic Simulator –
The Future of Arthroscopic Training
Modern minimally invasive surgery with arthroscopic surgical techniques demand high level of skills especially with regard to triangulation in space as well as working within a particular joint while observing the images (often in different orientation) on a separate screen. The learning curve to obtain these skills is very long and steep. It may take several years of training to learn and accomplish proficiency in these techniques.
Current teaching techniques involve traditional apprenticeship with many hours/years of assisting senior surgeons, learning on plastic models (rarely mimicking the 'real' life), participating in courses with workshops practising on human cadavers and eventually 'learning' on real patients.
There are obviously difficulties with these methods of teaching and training as resources are limited.
Utilising the Virtual Reality (VR) capabilities with tactile feedback within an arthroscopic simulator may overcome these difficulties and improve the ability to teach and train surgeons in performing these complex arthroscopic procedures without risking any live patients.
The VR arthroscopic simulator provides an unlimited resource for training, readily available to all. Surgeons can practice on these simulators for unlimited times until they achieve good enough skills to enable them to perform these procedures safely on patients.
Trainees' arthroscopic skills improvement can be measured by setting a series of increasingly complex exercises that the trainees should perform. The simulator programme will grant them points for quality of performance as well as for speed, avoiding unnecessary movements etc. Trainers can assess quantitatively the skills achieved by the trainees and certify them to perform these procedures using objective criteria.
Virtual Reality (VR) arthroscopic simulator with tactile feedback provides an excellent teaching tool and quantitative skill assessment tool. No doubt that the future of arthroscopic training will rely on such simulators.
Prof. Ofer Levy and the Reading shoulder unit was on the advisory and development board of this simulator early-on.
Prof. Levy worked closely with the engineers of GMV to create simulation of the shoulder joint, as close as possible to reality, simulating video recording and images taken by him in arthroscopies.
Prof. Levy jointly with GMV enginers, developed the first virtual arthroscopic "surgical modules" with Arthroscopic Subacromial Decompression (with Traffic light simulation: Green-very good, Ambar-not so good, Red-failed), and virtual insertion of anchors...
Green - Good, Ambar - Need more practice, Red - Game Over!
Reading shoulder unit uses the Virtual Reality (VR) arthroscopic simulator in the bioskills lab for training of the trainees, fellows and visiting surgeons.