Physiotherapy at the Reading Shoulder Unit
The Berkshire Independent Hospital (Ramsay) Physiotherapy Team
The Berkshire Independent Hospital Physiotherapy Department is very experienced in treatment of shoulder and elbow conditions both conservative treatment and post operative rehabilitaion.
Team
The inpatient team compromises highly experienced senior physiotherapists. Post-operative management is co-ordinated and discussed with the Consultant and an appropriate exercise programme and advice is offered, ensuring appropriate exercise and advice is issued to each patient.
The outpatient team comprises highly skilled and experienced orthopaedic clinical specialists in shoulders, orthopaedic clinical specialists in hands, and senior physiotherapists.
The outpatient physiotherapy department comprises Shoulder Clinical Specialists, and Senior Physiotherapists who practice both private and for NHS patients.
The Senior Physiotherapists and the Clinical Specialists work alongside the Shoulder Consultants during their clinics and in close collaboration with them.
The Shoulder Clinical Specialists have many years experience of shoulder rehabilitation, working with conditions including rotator cuff tears, impingement syndrome, shoulder instability, adhesive capsulitis (frozen shoulder) and trauma. They have special expertise in rehabilitaion after total shoulder replacement with the Copeland resurfacing and the Verso stemless reverse total shoulder replacement.
The Physiotherapists offer individual examinations and assessments, with treatment programmes devised according to the patient's individual needs and goals.
Patients may, in addition, be treated with electrotherapy, acupuncture, hydrotherapy, and shoulder class. The focus of treatment will be to achieve full function in order to return to work, hobbies and sporting activities.
The Berkshire Independent Hospital Physiotherapy Department will provide all the patients with detailed post operative rehabilitation instructions.
For patients coming from distance, they will provide them with referral and detailed instructions to their local physiotherapist, as well as, will be available to answer any queries your local physiotherapist have.
Department hours are 8am – 7pm, Monday – Friday
Please call 0118 9028021 for further information or an appointment.
Team Leaders
Physiotherapy manager / Senior physiotherapist - Lisa Davies
Shoulder Clinical Specialist - Minal Desai
Outpatients Senior nbsp;Physiotherapists - Aoife Filmer
Minal Desai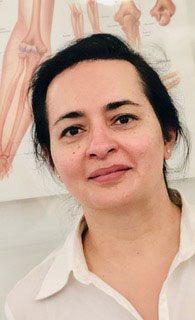 Contact details:
Berkshire Independent Hospital Physiotherapy Department:
01189028021
[javascript protected email address]
Minal completed her Physiotherapy training in India in 1997, she then joined Balabhai Nanavati Hospital, Mumbai, and did her junior rotations as well as further training under the then physiotherapist for the Indian cricket team.She moved to the UK in 2003 and worked in the Cromwell Hospital in London as Senior Orthopaedic physiotherapistMinal joined The Berkshire Independent Hospital in 2005 as Senior Physiotherapist and became the Clinical Lead Outpatient physiotherapist in 2011. During this time, she worked alongside the consultants in Reading Shoulder Unit where she developed a special interest in treating upper limb disorders. She is also a certified Hand Therapist. She has attended various courses to enhance her knowledge over the years and has extensive experience in assessing and treating various upper limb disorders including shoulder and elbow conditions. These include complex trauma, rotator cuff pathologies, shoulder instabilities as well as post-operative rehabilitation. She has presented at the Reading shoulder unit conferences She has completed her MSc module in Injection therapy from Keele University as well and currently works as an Advanced practitioner within the Reading Shoulder unit and a clinical specialist within the physiotherapy department.
Contact us: [javascript protected email address]