Pioneers of Minimally Invasive Shoulder Replacement
The Verso® Shoulder
The Verso total shoulder replacement design rationale and early results.
Prof. Ofer Levy, MD MCh(Orth) FRCS

The Verso total shoulder replacement was developed for use in severe rotator cuff deficient shoulders with arthritis. Patients with cuff tear arthropathy or any other arthritic condition combined with severe cuff deficiency such as advanced rheumatoid arthritis, fracture sequelae and multiple failed surgery combined with severe rotator cuff deficiency.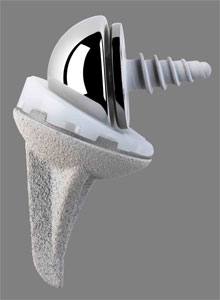 Patients may suffer from antero-superior instability and antero-superior escape of the humeral head due to deficient rotator cuff and destructed coracoacromial arch. These patients suffer from severe pain and limitation of movement and function. They may have marked limitation in the function affecting even simple tasks of daily living such as taking care of their own hygiene, feeding themselves, getting dressed and undressed. This lack of function can make the difference between a person being independent or needing 24/7 nursing.
The treatment options for patients with this condition are very few. Non-constraint conventional shoulder replacement; either resurfacing or stemmed hemiarthroplasty would provide them with pain relieve but no improvement of active motion and in cases of antero-superior escape will fail to improve their stability. Bi-polar hemiarthroplasty will probably do the same. The only option to improve these patients range of motion is by using a semi-constrained prosthesis with reversed geometry design, which allows the deltoid muscle to function better and improve the shoulder mobility. All designs of reversed shoulder prosthesis in the 70s have failed due to their excessive lateralisation of centre of rotation causing increased toque on the implant-bone interface of the glenoid component leading to glenoid loosening. Professor Grammonts idea of medialisation of centre of rotation towards the face of the glenoid and tensioning the glenoid muscle inferiorly has shown to be successful.
Reversed shoulder prostheses aregaining popularity in recent years. Good mid-term results with restoration of active elevation have been reported. However there is a high complication rate with a stemmed prostheses ranging between 24% to 50% in different series and many of them require further surgery.
Of major concerns are glenoid or humeral shaft fractures on preparation, dislocations and instability as well as high infection rate. Glenoid notching is a serious complication that was noticed in over 70% cases with Grammont type of prosthesis and seems to appear quite early at 2-3 months post operatively (Levigne et al., J Shoulder Elbow Surg 2008). The amount of bone resected for the insertion of stemmed prosthesis make any further revision surgery very difficult and therefore the use is limited to the very elderly patients.
The Verso prosthesis a novel different design of stemless, reversed geometry prosthesis with metaphyseal fixation and minimal bone resection, cementless and bone impaction fixation has been developed to overcome these concerns. We have developed this prosthesis following extensive research since 1997 and it has been in clinical use for 8 years. The indications for the use of the Verso are in patients with glenohumeral arthritis and severe rotator cuff deficiency mainly;-
Patients with rotator cuff arthropathy
Fracture sequelae arthropathy with severe rotator cuff deficiency.
Severe rheumatoid arthritis with dysfunctional or torn rotator cuff
Severe cuff deficiency following multiple failed surgery with antero-superior Escape
Patient who had surface replacement arthroplasty which had deteriorated due to severe cuff deficiency can be revised to revere shoulder replacement.
Patients with severe shoulder dysfunction following failed rotator cuff tear repair for massive cuff tears.
Patients with stemmed shoulder replacement with severe cuff deficiency can be revised to verso total shoulder replacement either primary stemless prosthesis or stemmed verso prosthesis.
Patients with facture nonunion of the proximal humerus with severe cuff deficiency can be treated with primary stemless verso or a stemmed verso prosthesis.
The rationale behind the design of the Verso was to create a simple yet sophisticated implant. When the implant and technique are simple, there are fewer places for errors. Another principal is minimal bone resection and indeed the only bone that is resected in this procedure is the top end of the humeral head having a slice thickness of only 20mm. Even this bone is recycled and used for bone impaction. Stemless, cementless fixation: there are only 3 thin fins which, combined with bone impaction technique gives immediate press fit fixation of the prosthesis to the humeral metaphysis and further biological fixation from the porous and hydroxyapatite coating. This design provides direct load transfer to the humeral metaphysis which greatly reduces stress shielding and proximal bone absorption.
To avoid the serious problem of glenoid notching the humeral shell liner was designed with a 10 angle ream which results in a low medial edge and available system to allow optimal position in each patient to avoid glenoid notching.
The glenoid head is aimed slightly lower than the bottom edge of the glenoid bone and it is angled inferiorly at 5 thus reducing further to risk of glenoid notching.
Rotational movements have been improved substantially compared with the other prostheses with the use of the dial-able 10 angle polyethylene liners and insertion of the humeral shell in 30 of retroversion.
Revision and back up options were designed as well. There is a revision-stemmed kit and a salvage kit, for cases where the glenoid has been fractured and the glenoid head cannot be implanted. This salvage kit comprises of a mega head, which is 2/3rds of a sphere that can be fitted on the humeral shell as mega hemiarthroplasty. This will lateralise the centre of rotation and tension to deltoid muscle, and therefore, hopefully improve its function. All options remain open for future surgery if deemed necessary as bone stock is preserved. All the liners, glenoid heads, base plates and humeral shells are modular and interchangeable.
2-4y results of stemless-metaphyseal reversed prosthesis for arthropathy with severe cuff deficiency
O. Levy, N. Hous, R. Abraham, J. Relwani, T. Even and S. Copeland
Presented at American Academy of Orthopaedic Surgeons AAOS 2010 Annual Meeting, New Orleans, USA
Introduction: 2-4 years results with different design of reversed shoulder prosthesis are reported. Stemless prosthesis with metaphyseal fixation. New design principles were introduced to overcome pitfalls & problems encountered with reversed arthroplasty.
Methods: 31 patients with follow-up between 48 to 24 months. 8M/23F, age 74.2y(59-93y). 23 Cuff arthropathy, 4 fracture sequelae and 4 Rheumatoid arthritis. 6 of them as revision arthroplasty.
Results: All patients had good pain relief & were satisfied with their shoulder (8.6/10). Mean Constant Score improved for: Cuff arthropathy from 14 points preop to 56 postop (age/sex adjusted 20 to 80), fracture sequelae from 10 to 46 (a/s adj.15 to 65), Rheumatoid arthritis from 12 to 68 (a/s adj. 17 to 97) & the revision arthroplasty from 15 to 62 points post-op (a/s adj. 19 to 83). The mean range of movement improved in elevation & rotation movements to 132.5 elevation, 50.8 ER & 64.6 IR. All patients but one, resumed normal or near normal daily & leisure activities. Radiographic analysis showed only 1 case of mild (grade 1) glenoid notching at 4 years postop. No lucencies were seen around the implants. There were 7 complications - six resolved.
Discussion and Conclusion: This different design shows encouraging excellent preliminary results with low incidence of glenoid notching. The new design principles seem to result in improved rotational movements & reduction in complications and their severity. With this bone preserving procedure, all options remain open for future surgery if deemed necessary as bone stock is preserved.
The Verso shoulder is manufactured and distributed By -
IDO - Innovative Design Orthopaedics Ltd.
(Previously manufactured and supplied by Biomet UK Ltd.)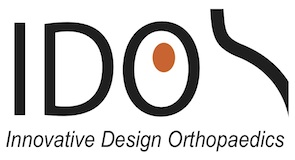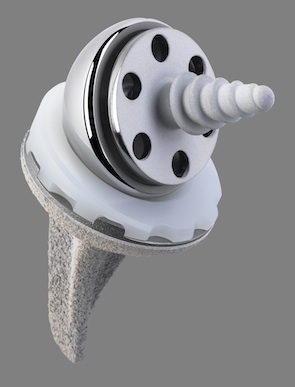 The VERSO shows the best glenoid sphere fixation
in an independent study by Imperial college London scientists - Read More
Link to get a Verso leaflet (PDF file)
Link to get a Surgical technique booklet (PDF file)
Verso Registry data collection forms:
You will need the Adobe Reader to view and print these documents.

3D CT scan pre-op planning for the Verso 
Stemless Metaphyseal Reverse TSA
with MediCAD 3D Planning Software